Panama Canal Railway Company
During the first half of the nineteenth century, travel across the Isthmus of Panama was difficult and dangerous. The need for a more reliable interoceanic communication grew stronger after the acquisition of California by the United States. The construction of a transcontinental railroad started in 1850 and the first train from coast to coast passed on January 28, 1855. However, more than twelve thousand workers probably died during the construction.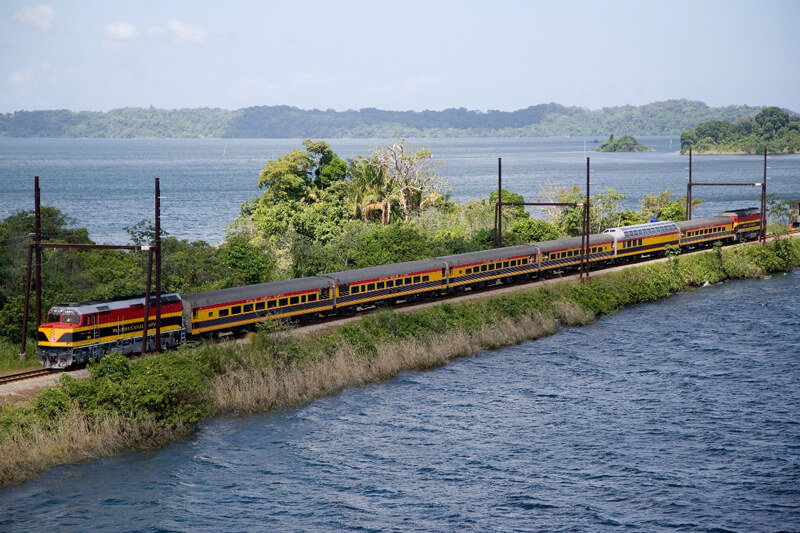 The railway greatly assisted in the building of Panama Canal, which closely paralleled and in some places took over the rail line. Parts of the rail route were moved during the building of the canal, and considerable additions were made to the rail system. The rebuilt and improved Panama Railway beside the canal was completed in 1912.
In 1979, the US government handed over control to the government of Panama. On 19 June 1998, the government of Panama turned over control to the private Panama Canal Railway Company ("PCRC"). The Panama Railway was originally 1,524 mm (5 ft) broad gauge, but when it was rebuilt in 2000, the gauge was changed to 1,435 mm (4 ft 8 1⁄2 in) so as to use standard gauge equipment.
As of 2015, Panama Canal Railway Company runs both passenger and freight trains between Panama City and Colón Timetable and fares. Passenger service consists of one service per direction Monday-Friday and the regular one way fare is US$25.
Highways are well developed for Central American standards. In Panama there are 4 expressways working, all of them requiring toll payment:
Corredor Sur: Runs from Panama City to the Tocumen International Airport. Its length is 26 km.
Corredor Norte: Runs from Panama City to Colinas de Cerro Viento. It has a length of 20 km.
Autopista La Chorrera: Runs from Panama City to La Chorrera. It has a length of 44 km.
Colón Expressway: Runs from Panama City to Colón. It has a length of 59 km.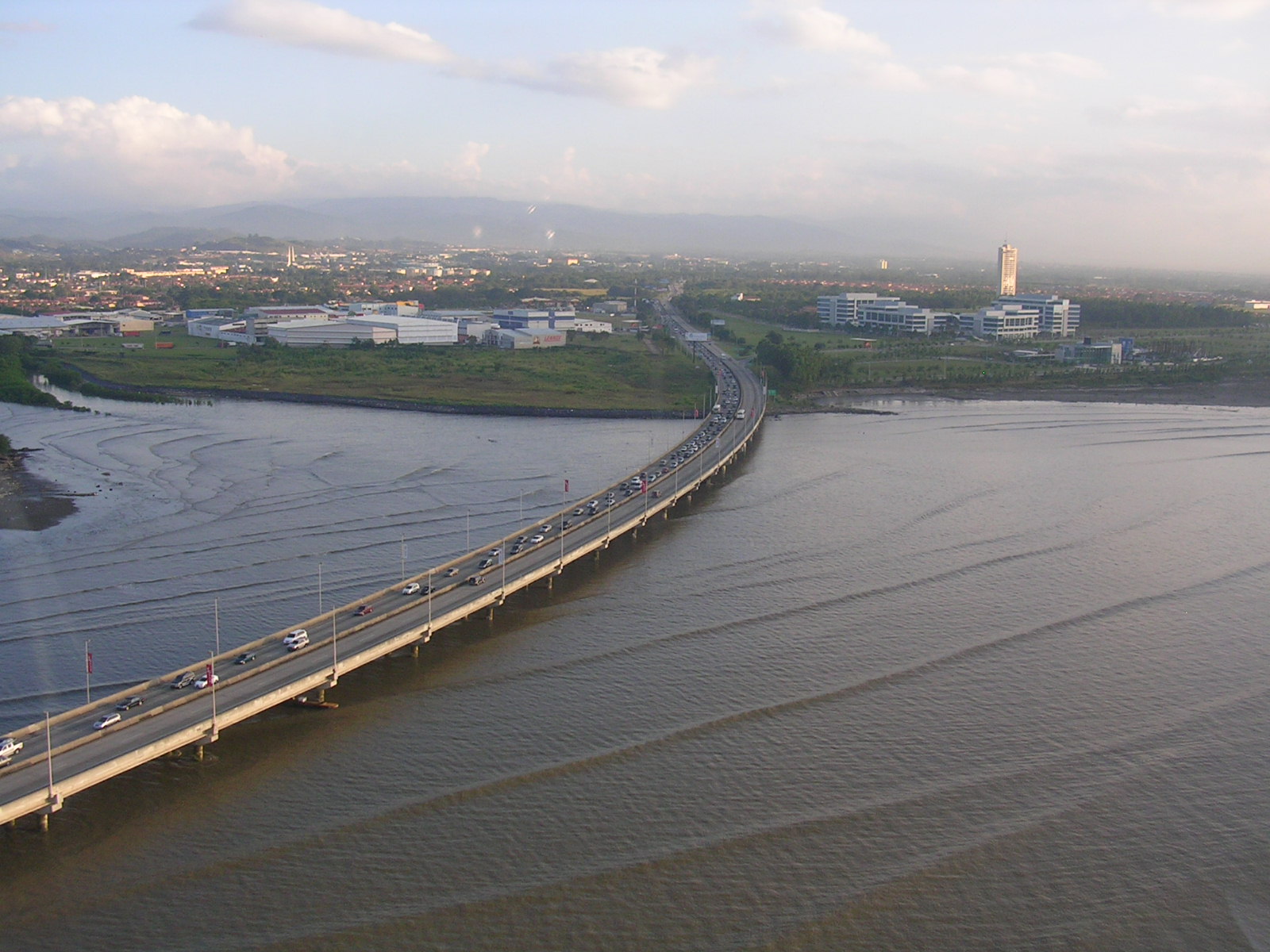 Like any major metropolitan city, there are many options for transportation fit for any budget. Driving is often the most direct, and certainly a popular option in Panama. But if you don't have a car, or don't plan on driving, don't fear, you still have lots of choices to get around. For those of you who want to be in the know, here is a quick guide to know how to get by when you're in the city:
Walking
Most locals will tell you that Panama is not a walking city. While this may have some truth to it, it's not necessarily the case for the entire city. Neighborhoods like Casco Viejo, Punta Paitilla, Marbella, and El Cangrejo are all easy to navigate by foot, and it it's the easiest way to get around there.
Bus
Bye Bye "Diablos Rojos" (Red Devils in English) are old school buses converted into city buses. Each one boasts its own unique, custom paint job with bright, usually red, colored murals on the outside. But the culturally identifiable trademark now is just a memory. The Panamanian government replaced 3,000 "diablo rojos" with a new, modern Panama bus fleet named the Metrobus.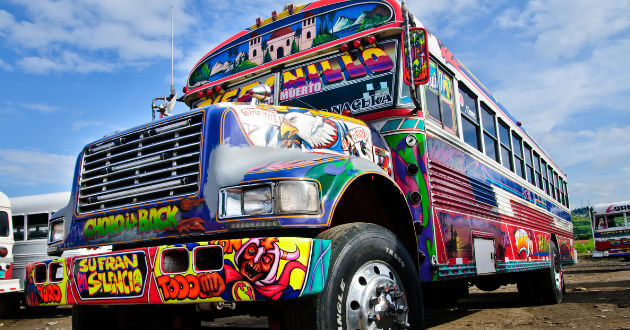 The new high-capacity Mercedes Benz and Volvo buses changed the landscape of Panama City. With far less air and noise pollution, passengers are now provided with a new, clean and comfortable means of public transportation.
One of the president's campaign promises was to provide a new, reliable, comfortable bus system, and the Panamanian government is making true to its claims.
In Panama City alone, over 700 thousand people use public transportation. The new buses are designed to carry about 80 passengers each – 30 sitting and 50 standing, which is about 25% more than what the Diablo Rojos can handle.
The new buses include air conditioning, separate entrance and exit doors, seats for the disabled and prepaid bus cards. The system is designed to guarantee efficient bus routes and a high frequency of buses.  The current fair, set for one year, is $0.45, compared to Diabol Rojos which charge $0.25 per passenger.
To get more info about routes,check out their website www.mibus.com.pa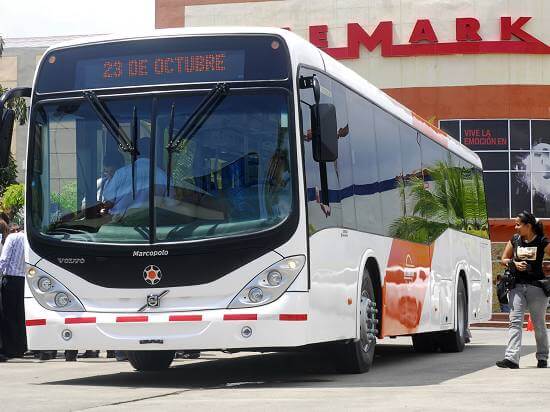 Subway
The newest addition to public transportation in Panama is the Metro (Subway). Not to be confused with the bus of similar name, the "Metro de Panama" is Central America's first subway, and a major source of pride for the country. This April, the first line was complete. It takes passengers from Albrook Terminal, on the SW side of the city near the canal, all the way into the suburbs, with 11 stops in total. Some of these stops include areas like El Cangrejo, downtown, and Bella Vista, which are all popular areas for expats to live and work. The fare costs $0.35 per ride, and can be purchased at the main terminals using your Metro card.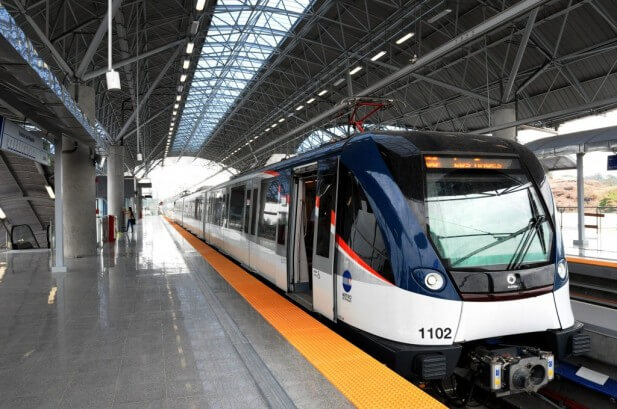 Taxis
Taxis are another very popular way to get around Panama City, and compared to the US and Canada, are very cheap. Yellow-painted cabs are the norm here, and they roam the streets at nearly all hours of the day and night looking for fares. Cabs are typically shared, which accounts for the low price; so don't be surprised if your cabbie will stop to pick up other passengers on the way to your destination. There are also no meters, which can make negotiating a fare a bit of a challenge. Your best bet is to ask a local what the standard fare is from point A to point B, but as a general rule, they don't surpass much more than $5 each way in the city. Recently, other taxi-like services have popped up in Panama, including Uber, which bases its fare on time and distance, and is charged directly to your credit card once you set up an account.
Albrook Bus Terminal: If you are on a budget, you can get to places in Panama very cheaply by bus. The Bus Terminal is adjacent to the Mall, about 15 minutes from downtown Panama City.
A network of "bus stations" connects every city in the interior of the country, even if it is just a bus stop with a sign. Most buses are comfortable and with A/C. From the Albrook terminal, you can take bus directly to all the major tourism destinations with the exception of Pedasi (with one stop in between in Chitre). One-way ticket prices range from $2.75 to $27.50. The prices below are one-way. Panama's Riviera: Santa Clara, $3.95 Coronado, $2.80 Rio Hato: $3.95 El Valle de Antón: $4.75. David is the gateway to Boquete and Volcan. The trip takes 6 hours and the buses are comfortable with air conditioning. They leave at 10, 11 & 12 pm. and get to the David terminal in the early morning. From there, take a bus or taxi to Boquete or Volcan. $12.00. Bocas Del Toro: Puerto Almirante is the port from which you can take a boat ride to Bocas' main Colon Island (for about $4). You can take a bus there from the Albrook terminal for around $27.00. Pedasi and the Azuero Peninsula: Take a bus to the city of Chitre and from their another to Pedasi. The whole trip will take about 9 hours and cost about $15.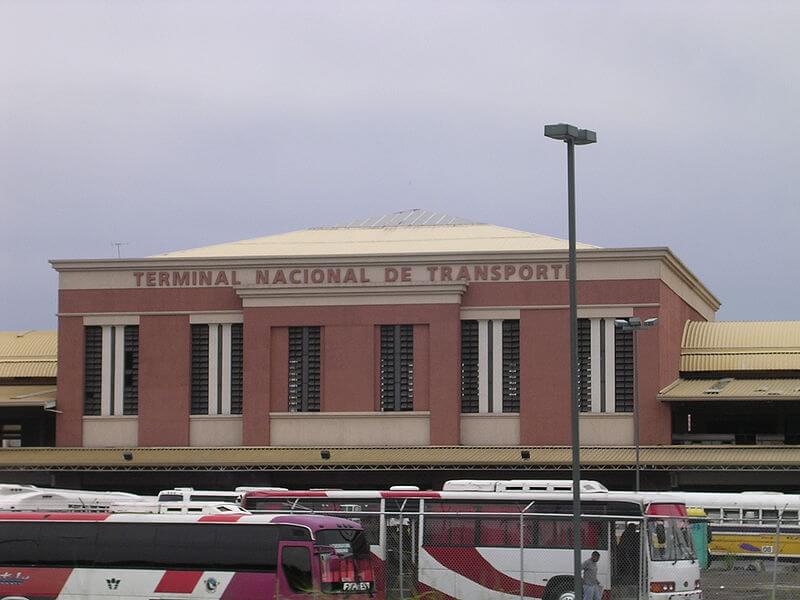 Regardless of how you choose to get around, it's important to remember to stay patient. Panama has a lot of people, and a lot of traffic. Once you learn to go with the flow, and plan your travel with enough time, getting around the city can be a lot less painful than it looks. Good luck, and safe travels!.